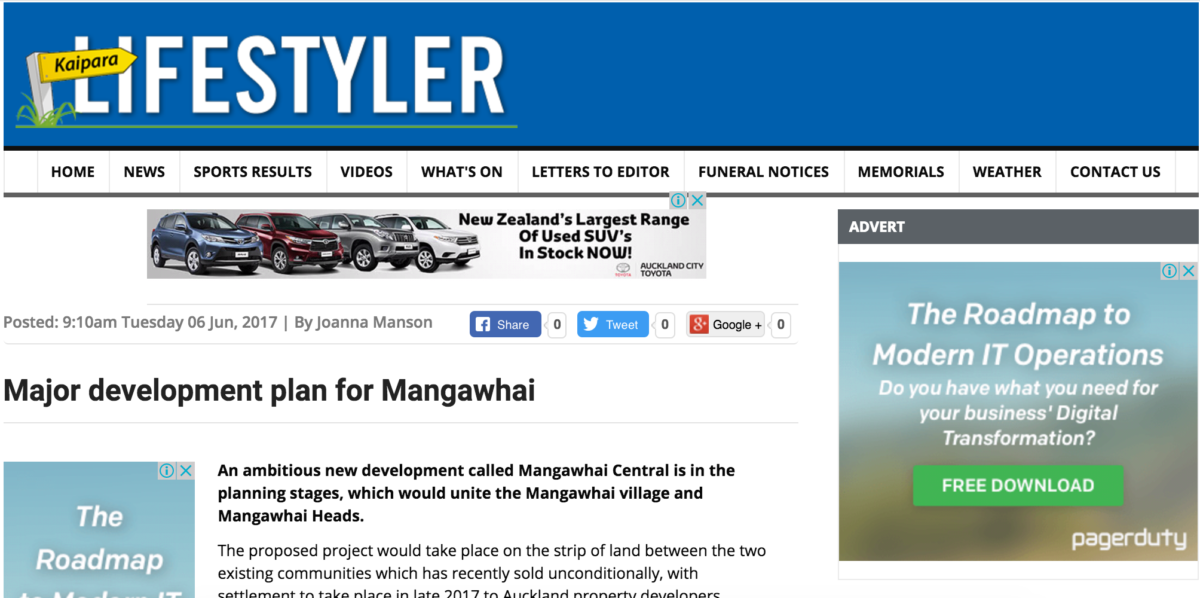 Major development plan for Mangawhai
June 6, 2017
To link to Kaipara Lifestyle, click here.
An ambitious new development called Mangawhai Central is in the planning stages, which would unite the Mangawhai village and Mangawhai Heads.
The proposed project would take place on the strip of land between the two existing communities which has recently sold unconditionally, with settlement to take place in late 2017 to Auckland property developers, Viranda Partners Limited.
The company describes itself as undertaking commercial property research, analysis and acquisition services for investors. The total space of the site is 128 hectares and the developers hope that Mangawhai Central will be the 'heartbeat of the area' where 'everyone can meet in the middle' from the two distinct centres of the heads and village. No cost projections have yet been made available.
Initial plans show scope for a town square, secondary school, retirement village, medical centre, supermarket, eateries and residential housing.
Viranda Partners chairman, Andrew Guest said community engagement will be important as would be respecting the unique character and heritage of Mangawhai.
"When the opportunity to be involved in this Mangawhai project was brought to our attention we had no doubt about the potential in the area.
"The catalyst motivating us to proceed was recognising the importance of ensuring that the Mangawhai Central area was not only developed as it was able to be, but that it successfully brought together the different facets of the community — residential, holiday, retirement areas and the different community groups," he said. He said the facets would be "paramount" to the project. Mangawhai Business Development Association chairman, Richard Gunson said the association was pleased that someone would be taking on the development of that site.
"It plays a very important part in Mangawhai's growth and development as a community.
"There is a resource consent that goes with the property which we are happy with and will work with the developers to assist where we can to facilitate it," he said.
"It's going to have an impact on economy because they are going to do the best possible to use local contractors and they are actually wanting the project to get underway. It's an exciting time."
While the project remains in the early stages the newly formed mangawhaicentral.co.nz has been set up to detail progress.